Post by Mutant Lord: William McAusland on Apr 19, 2013 19:59:20 GMT -8
First session
by Toric » Sat May 21, 2011 8:34 am
I GM'd my first session on Friday night. The bulk of the session was taken up by character creation but we did get to actually play for almost two hours after characters were done.
The group consists of:
A typical mutant militia soldier who ended up with stench spray, monstrous morph, sonic wave, and empathy as prime mutations.
A ghost mutant technician with a nice mix of mutations such as heal touch, mind crush and coma inducement.
A pure stock human elite soldier with an Accuracy of 95 and who is pretty well-equipped.
A battle bioreplica elite soldier who can take a beating (Endurance of over 120, -40+ DV) but who doesn't have the greatest SV.
A typical mutant with four arms and who is a dangerous melee combatant.
A beastial human (domestic cat) mercenary who has the potential to be deadly in melee (SV 01-84 with combined claw/claw/bite attack, -45 DV).
I am running The Crevice and so far they have entered the building to escape the skulking render outside. They searched the warehouse room barrels and found some nice loot including tactical armor, a frag grenade, and a riot shield. From there they moved into the hallway and then into the office room where they were attacked by 10 devil bats. After the fight, the ghost mutant found a skeletal body with a gold wrist watch on it. They then managed to force open the deadbolt locked door into the storage and bathroom area where they discovered a submachine gun with 25 rounds in the clip. Moments later they heard the scuttling of something coming from the broken open ventilation hatch, getting closer by the second. We quit there for the night and will pick up the game in two weeks on June 3rd.
I have so far followed the module and randomly rolled for what items and creatures will be found when called for by the text. They have received a fair amount of items already after only visiting a couple of rooms. I'm concerned that I am giving out too much powerful and valuable stuff. I know they'll ultimately need it but I don't want to go overboard. I also noticed that giving 10% of the value of the loot discovered as experience factors starts to add up quickly when you are dealing with large hauls of cool and valuable items. After the fight with the devil bats and the items they discovered, they would have earned over 100 EF's each. I toned that down a bit so that they wouldn't rank up too quickly and gave them each 70 EF's which is enough to gain rank 2.
I have been fairly vague so far about the actual setting but I believe I am going with a post apocalyptic version of Colorado and placing Pitford near the ruins of Denver. The Crevice adventure then takes place in the Denver ruins. I told them that they had all served in a town militia together (option 2 for getting the party together in The Crevice module). This town, which was out on the eastern plains of Colorado, has been destroyed by raiders. The PCs escaped the destruction and struck out on their own as adventurers and excavators.
At any rate, the rules are smooth in play and the mechanics of the game are easy to grasp. I greatly enjoyed running the game and I believe the group enjoyed playing as well. In fact, one of my players posts here since he is the other guy in the group that has actually purchased the book (Hi Mr. Nighttime!) Many cat jokes were tossed around and my son who is playing the mutant with the stench spray had to deal with plenty of jokes about his stench tube which is unfortunately located in the buttocks area.
I'm very much looking forward to our next session and since character creation is over, we'll be able to actually play for a full four to five hours.
---
Re: First session
by madwill » Sat May 21, 2011 9:48 am
i must say, that is a very well rounded party! my random rolls were just the opposite, many small creature attacks and the only real big tech find was a laptop computer. let us know how the rest of the adventure goes.
---
Re: First session
by WillMcAusland » Sat May 21, 2011 6:19 pm
Man, it is so good to hear that your group is enjoying the game and the Crevice sample adventure. Also, getting a glimpse of the various characters is exciting and makes me want to get back to GMing the two groups of players I referee for locally. The idea of inserting Pitford into your own region is excellent. Fully enclosed towns near ruins would be logical in a world where there are large winged or climbing predators, not to mention sandstorms, acid rain, giant hail and whatnot. I imagine Barter Town from Mad Max Beyond Thunderdome, but encased in junk metal, concrete plastic, bones, timber, car parts, and wire.
If you enjoy the crevice, you will love The Mall of Doom, although by the sounds of things your characters have been lucky with loot and experience factors, and might be mid rank if they survive your next session and maybe a bit overpowered. On the other hand, your party isn't large, and I'd suggest having a back up PC for each player when tackling The Mall of Doom when it comes out.
The Mall of Doom is almost completely illustrated now, and just needs one more read through and art insertion, layout tweaks and pre-press attention. Here is an image from it: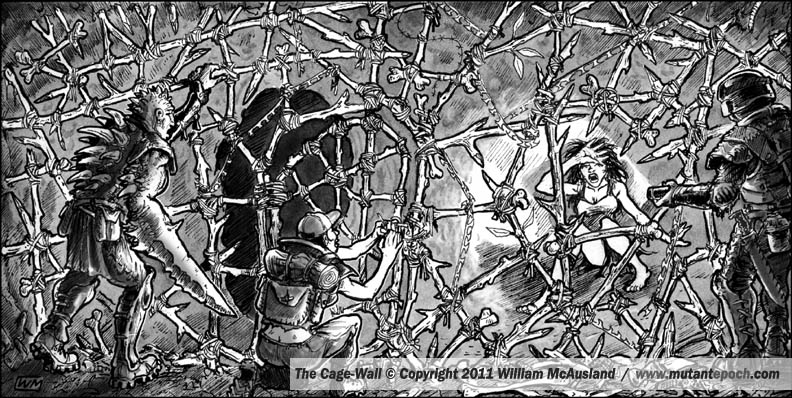 ---
Re: First session
by Brutorz Bill » Sat May 21, 2011 8:48 pm
Thanks for writing this up, sounds like you had a lot of fun. Good group mix, from the sound of things!
Please keep posting about your groups adventures!
---
Re: First session
by Toric » Sat May 21, 2011 8:58 pm
Looks great, Will. Really looking forward to more products for the game!
I also can't wait to see the Crossroads Region map and brief gazetteer. Even if I don't use the whole area as is, it will help to see how a regional area is designed. I planned to use Colorado for my own setting but if I like Crossroads better, I just might use it in it's entirety instead.
---
Re: First session
by Toric » Sat May 21, 2011 8:59 pm
Brutorz Bill wrote:
Thanks for writing this up, sounds like you had a lot of fun. Good group mix, from the sound of things!
Please keep posting about your groups adventures!
I'll try!